Get Instant Cash Advance from #1 Cash Advance App - Beem
Get $20 - $1,000 instant cash for emergencies, Send money
to anyone, get tools and services to plan, spend and save better.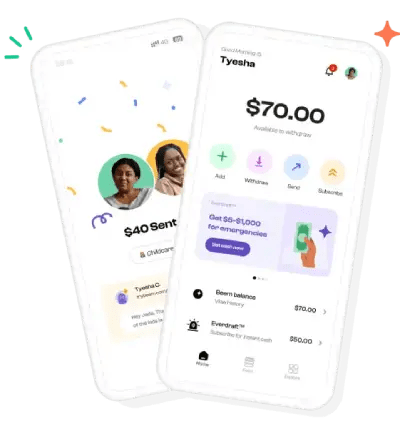 4.7 stars | 12.7K+ ratings
4.3 stars | 10K+ ratings
Featured In

#Beem money instantly to anyone!
Send money online to anyone even if they don't have a bank account or Beem app.
Security & Support
Security
Beem's bank-level security protects sensitive personal information and prevents unauthorised use.
Privacy
All deposits are protected by our member banks and partners. Personally identifiable data is never stored in our infrastructure.
Support
Check our Help Center or message your friends at Beem right here or from our app.
Trusted by

1 million+

Americans
Mike

The App You Didn't Know You Needed

Beem is a wonderful app I use when I need instant cash. I can use it for gas, groceries, or a quick bite to eat without breaking the bank. The best part is my withdrawal line is affordable to my budget. When I have to pay it back I don't feel like I am back in debt.

Minka

Great pocket money in need

The extra cash I can borrow at the end of a long week has been such a life saver. Not on borrowing but I love all the added features like Credit check & ID protection. I have been using the Beem app for a few months now and I must say it's unique. So get instant cash now and pay later with Beem.

Nichelle

#1 Smart Wallet App

I had to use Beem when I got the unexpected diagnosis of Lupus. I was informed to start the treatment ASAP and I didn't have ANY MONEY. I was in between paydays. I tried Beem and it was approved and I got instant cash and I'll forever be grateful for that.

Robin

Great app!

One of the best apps to borrow money for gas or get money instantly to get lunch or dinner ! It is great to use when you are low on cash, you can get cash now and pay later with Beem. Great customer service as well!

Adela

This app saved me

The app is so easy to use. I am able to get extra cash that i need to cover expenses. I really appreciate have been using Beem for many many months. Thank you so much for being there. As a single mom it helps BIG!!!

Maria

So helpful!

Sometimes you just are in need of a little extra cash! Beem has been great as you get money instantly when I run out of money right before payday and just need that little bit of extra help! It's very easy to use and has helped me when I've needed it the most.
FAQs
What is Beem?

Beem is the #1 Smart Wallet App that helps you stay on top of your finances. With Beem, you can get instant cash without interest and without credit checks through the Everdraft™. You can also send money online to anyone in the USA, file taxes for free, use a budget planner to plan, spend and save money better, and avail credit monitoring and identity theft protection.

How much instant cash can I get with Everdraft™?

You can get $20 to $1,000 in instant cash advance using the Everdraft™ feature. In addition to your unlocked Everdraft™ amount, you can also unlock more cash using the Beem boost feature to get a cash boost on your Everdraft™ amount.

Who can get cash through Beem? How do we get started?

Any legal resident of the USA over the age 18 years, can apply to get cash advance through Beem through the Everdraft™ feature. If you qualify, you will be able to access it through the app.

To start, simply download the app, create an account and complete the onboarding process!

What can I do with my cash?

Once you unlock your Everdraft amount, you can access instant cash in multiple ways:

Send money to ANYONE - even if they are not on Beem! (they can receive in bank/card/gift card/prepaid card too)
Gift cards, 2,500+ retailers (Instant, Free)
Pre-paid VISA or Mastercard (Instant, Free)
Your bank issued debit card (Instant, $4/transfer)
Your bank account (ACH, 3-5 business days, Free)
Digital or physical check (coming soon)
Virtual credit card (coming soon)

I'm here for more than just emergency cash. What else can I do with Beem?

Beem now offers more features, like your AI powered BFF - the Better Financial Feed™ for budget planning, Credit monitoring, Identity theft protection and more.

What are the charges to use Beem?

Beem's Basic plan is absolutely free - you can avail tax filing, cashbacks, sending money, budget planning (trial) and exclusive offers in insurance plans. To access additional features like instant cash, budget planning, credit monitoring, identity theft protection and more you can opt for one of our monthly subscription plans costing only $2.47 and $9.97. See more about plans here

How secure is my personal and financial information with Beem?

Beem is PCI-DSS certified, which means we use the gold-standard security systems to prevent any data leaks. We also employ best in the industry cybersecurity experts who use the same systems used by top global banks and new age fin-tech companies. Our system is encrypted end-to-end, may it be data transmission or data storage. So go ahead and get cash now, worry free.