Line, the #1 Smart Wallet App™ in
over 5,200 cities, is now officially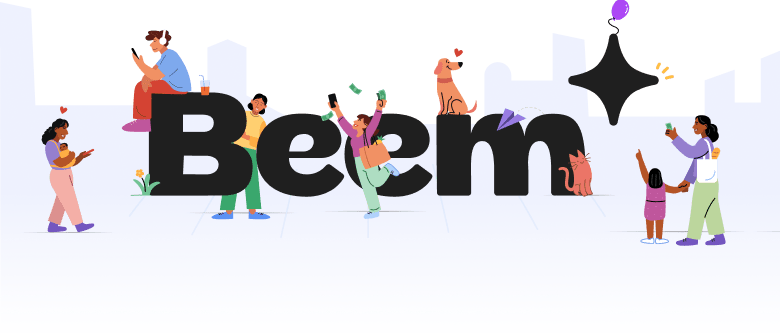 Line, the #1 Smart Wallet App™ in
over 5,200 cities, is now officially You can find us on useline.com till 30th June, 2023.
Read below to learn what's ahead.
Welcome to
Our new name reflects
who we are at our core
The North Star
We chose the North Star as our symbol because it's a beacon of hope – guiding people who may feel lost or uncertain. At Beem, we believe our users and their everyday challenges and needs are our North Star. We want to help guide you to a brighter and safer financial future.
With Beem, our primary focus is to improve your financial health. We have built an AI- powered smart solution to help you with all your financial needs, in one place.
FAQs
Why did Line change to Beem?

Line has been the #1 Smart Wallet App™ for working-class Americans in over 5,200 cities. While Emergency cash was the no.1 problem we solved for you, we realized that there are so many more areas we could help meet your financial needs! We heard you, and we are adapting.Our new name, Beem, reflects who we are at our core and the logo is the North star. The North Star is a constant - A dependable guide that offers purpose and fulfillment. It is a beacon which signifies hope and gives direction to never deter from the goal. Check out all the new features and join the #Beem today!

What's new in Beem?

With Beem, we have a whole new approach to improving your finances. In addition to the new features available in the free Basic plan, we also offer the following capabilities:

Everdraft™ - Instant cash for emergencies
Tax - Federal & State filing
BFF- Better Financial Feed™
Wallet

Add money for free

Debit card (Instant), Credit card (Instant), Pre-paid cards (Instant), Apple pay, Google pay, Samsung pay, Bank account (ACH 3-5 business days)

Withdraw money any time

Gift cards, 2,500+ retailers (Instant, Free)
Pre-paid VISA or Mastercard (Instant, Free)
Your bank issued debit card (Instant, $4/transfer)
Your bank account (ACH, 3-5 business days, Free)
Digital or physical check (coming soon)
Virtual credit card (coming soon)

Send money to anyone

Buy or send Gift Cards

Purchase gift cards from over 2,500 brands

Get up to 20% cash-backs

Offers & discounts on 3,500+ brands

Monitor & grow credit score

Check credit score & learn ways to improve scores

Protect your data from fraudsters
Send Now, Pay LaterTM (coming soon)

Send money to anyone (using Everdraft™), even those without the Beem app or a bank account. Pay later.

Buy Cheaper Insurance (coming soon)

Compare & switch to cheaper premiums

I am an existing subscriber of Line. What does this rebranding mean for me?

If you are a subscribed user of Line, you are in for a treat! Within your current subscription plan, you get access to a LOT more than the emergency cash that you've already been availing. Simply update the app from Line to Beem and enjoy the Feeds feature, get a personalized budget, send money to your loved ones, file federal & state taxes for free, get cheaper insurance offers, identity theft protection (up to 1Mn USD), credit monitoring and much more.

Check all the plans here.

How do I sign up for Beem?

Simply download the latest version of the Beem App from App store or Play store and complete the onboarding process! It's a simple process where you will need to

Sign up using a mobile number and email ID
Complete verification of basic personal details
Link your Checking account where you receive wages
Choose a plan to subscribe (Free, $2.47/mo, $9.97/mo)